3 YELLOW FAMILY from 2.82€
Showing 1–12 of 26 results
FOREST 5,5%

Inspired by Latvian folk songs on juniper beer, this one will resemble a refreshing walk in our corniferous seaside forests. Brewed with juniper berries and a variety of hops derived from regional wild hops - Kazbek. Fruity and resinous, with a lightly kilned malt backbone and a blasphemously inviting finish.

JUNIPER RED ALE

ABV. 5.5%
GRAVITY 1012
IBU 7
EBC 25

Ingredients: water, barley malt, juniper berries, hops, yeast

€

3.12
Sale!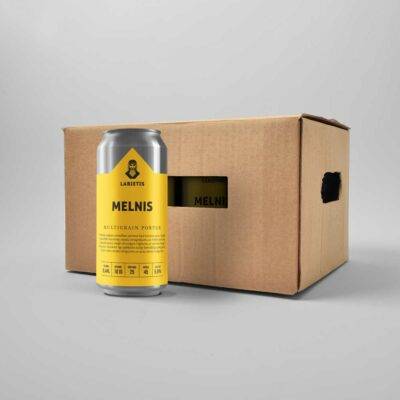 Mr. Black 5% (12 pcs.)
An effortlessly light porter. The thick shadow of roasted and caramel malts is enlightened up by the overall low final gravity and the crisp bitterness of Cascade hops. Meanwhile a juicy chocolate aftertaste is supported by the sturdy sweetness of rye malt and silkiness of oat malt.
MULTIGRAIN PORTER
ABV. 5.0%
GRAVITY 1010
IBU 25
EBC 45
Ingredients: water, barley malt, oat flakes, rye malt, hops, yeast
Sale!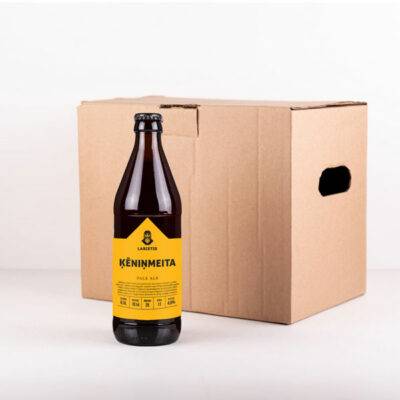 DAUGHTER OF THE KING 4.6% (12 pcs.)
British style pale ale brewed with Continental malt and New World hops. The sweet citrusy intro is followed by the gentle honeylike caramel of Vienna malt, that offers a perfect setting for the fruity bitterness of Cascade and Centennial hops. Noble balance of light malt, hops and yeast esters with a fresh resinous finish.
PALE ALE
ABV. 4.6%
GRAVITY 1014
IBU 25
EBC 11
Ingredients: water, barley malt, hops, yeast
Sale!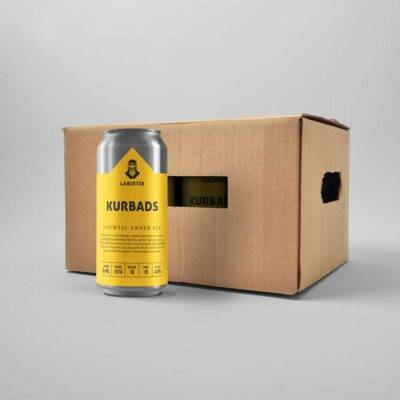 Kurbads 4.6% (12 pcs.)
Hearty and full-bodied light beer for winning. The lime bitterness of Wakatu hops is embraced by the silky tenderness of the high final density of oat and barley malts, which lingers as the unique biscuity sweetness of the floor kilned malts in the aftertaste.
OATMEAL BROWN ALE
ABV. 4.6%
GRAVITY 1014
IBU 18
EBC 15
Ingredients: water, barley malt, oat flakes, hops, yeast