7 LIMITED from 4.13€, BOTTLES / CANS
First elder 7.0%
€4.60
A blended spontaneous fermentation ale brewed in the Belgian tradition. Since 2019, we are the only brewery in the Baltics to actively operate a coolship, and part of this wildale started off in that pre-plague and pre-war year. Blended with younger spontaneous fermentation ales from years 2020 and 2022. The aim of this Belgian method from beginning of 19th century is to weave the richly mossy and rustically spicy flavours of an older wildale with the refreshingly spicy elements of a younger wildale. Intended for immediate processing or longer maturation.
BLENDED SPONTANEOUS FERMENTATION ALE 2019 
ABV 7.0%
GRAVITY
BITTERNESS
COLOR
Ingredients: Water, barley malt, wheat, hops, yeast.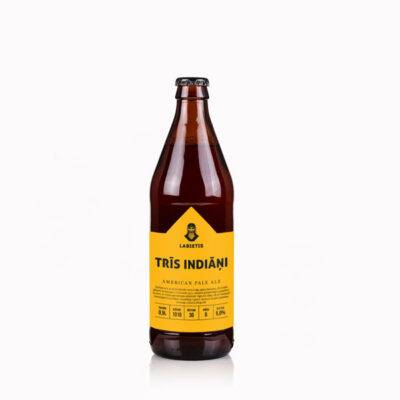 Three Indians 5%
Brashly American pale ale with a crisp and explicit bitterness. The pine and citrus aroma of Cascade and Centennial hops enrich the earthy bitterness of Columbus creating a neo-classic biterness profile. Pale ale malt soothes the tongue into a grapefruity aftertaste.
AMERICAN PALE ALE
ABV. 5.0%
GRAVITY 1010
IBU 30
EBC 6
Ingredients: water, barley malt, hops, yeast
€

3.12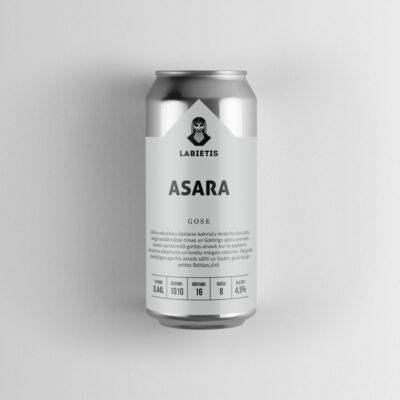 TEARDROP 4,5%
A style popular in late medieval Goslar. The aroma of lightly soured mash and Goldings hops introduces a refreshing tastescape, where it is enriched by the spiciness of coriander. Followed by the bready sweetness of wheat malt, which is faded by a slight bitterness and finished by a pinch of salt.
GOSE
ABV 4.5%
GRAVITY 1010
IBU 16
EBC 8
Ingredients: water, barley malt, wheat malt, hops, salt, coriander, yeast
€

2.87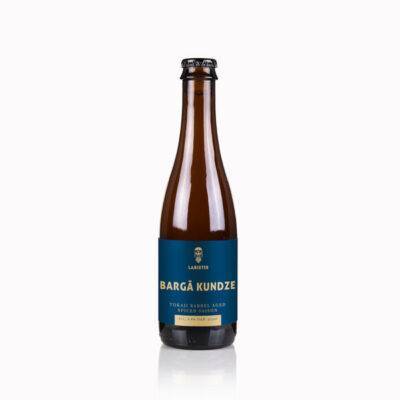 DOMINATRIX 8.8%
This is a limited edition of our spiced saison, which has spent almost a year in a Tokaji wine barrel. Innocent gooseberry notes introduces the foreplay with some cardamom and saffron, jerked shortly after in a primal dance with the esters of the barrel yeasts, traumatised by botrified grapes. Despite the combination of dry and naked beer body and a strong whip of alcohol, the vanillin of the wood with some golden raisin fruitiness allows to soften the experience to a perversly enjoyable level. With a fresh finish of pink peppercorn and blushed cheeks.
TOKAJI BARREL AGED SPICED SAISON
ALK. TILP. 8.8%
GRAVITY 997
RŪGTUMS 28
EBC 10
Ingredients: Water, barley malt, hops, pink peppercorn, yeast.
€

4.82